A word about Haifa and our roots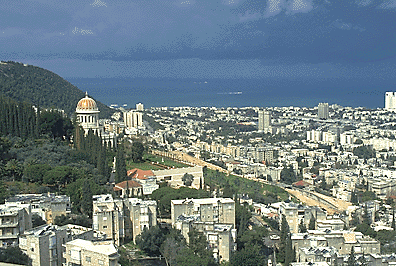 My beloved significant other Irit and I live in Haifa, Israels' 3rd largest city, on the Mediterranean coast about 100km north of Tel Aviv, Israel's main metropolitan area. You can see Haifa's location in the top centre of the attached map. The Lebanese border is about an hour's drive north of Haifa.
The population of Haifa itself is about 270,000 people, probably about half a million with the surrounding towns. Haifa itself is very hilly with the ridge of Mt. Carmel running from south-east to north west. There are magnificent views of the harbour and the bay area from Mount Carmel . Haifa is much more easy going and provincial than the cosmopolitan hedonsitic atmosphere of Tel Aviv. Historically it is known as a worker's town with a lot of industry in the nearby bay area. Haifa has a reputation for moderation and peaceful co-existence between the Jewish majority and the Arab minority. Before Israel's War of Independence in 1948 there were many more Arabs but they fled (to Lebanon and Syria) during the fighting and the capture of Haifa by the Jewish Hagana forces. The Jewish narrative has it that the (Jewish) mayor appealed to the Arabs to stay even though may of their leaders had left and much of the Arab media was exhorting the Arabs to leave until the troubles were over. The Palestinian narrative is one of ethnic cleansing - you can read it at
http://www.palestineremembered.com/Haifa/Haifa/
- the "truth" is probably somewhere in between. I doubt the Jews actually expelled the Arabs of Haifa (they definitely did in some other places) but they almost certainly weren't sorry to see them go.
Irit's parents immigrated to Mandatory Palestine (the precursor to modern Israel) in 1933 and settled in Haifa in 1934. I immigrated to Israel in 1973 from the UK and lived in the Tel Aviv area until 2002 when I moved to Haifa.
Links
Haifa
http://en.wikipedia.org/wiki/Haifa
Palestine (region)
http://en.wikipedia.org/wiki/Palestine_(region)